As part of my quest for a Christmas free of fuss and muss that won't leave me unable to pay my student loans, here are some gift ideas for the frugal, but still discerning, gifter.
For the Glamourpuss, the Beauty Junkie, the Lover of Innuendo:
Sephora just fired off a round of markdowns, the best steal of which is
this iconic set
from NARS. Gift one or both, or neither. Either way, don't expect their stock to last through Cyber Monday.
NARS Orgasm / Laguna Beach Bronzer Duo and Orgasm Nail Polish set. ($53 Dollar Value)
Marked down from $49 to
$35
.
For the Minimalist, the Writer, the Card-Carrying MoMA Member:
MUJI
, the no-brand brand store from Japan, with their pared down, trend resistant products, suddenly makes so much sense in these economic times. Lovers of excess, (unless your guilty pleasure is my own: gloriously smooth-writing fine point ink pens), need not enter.
For the Epicurean, the Wine Geek, the Glass-Breaking Party-Goer :
Astor Wines Best 10 Wines under $10
. I'm eyeing a Sparkling Malbec from Agrelo. Blueberries, blackberries, currants, and black pepper spice, and for
$7.99
? I'm not sure but I'm pretty sure it doesn't get much better than that.
Terra Sparkling Malbec - Viniterra 2008. $7.99 at www.astorwines.com
Bouley's $45 Prix Fixe Lunch
. Pricey for lunch, but I've been there for dinner, and from the red apple lined entrance-way to the loaf of bread I was sent off with, it was far and away the best meal I've ever had in my life.
The Gem Martini Glass from CB2
, the Crate & Barrel down-market venture with a younger, more modern design aesthetic.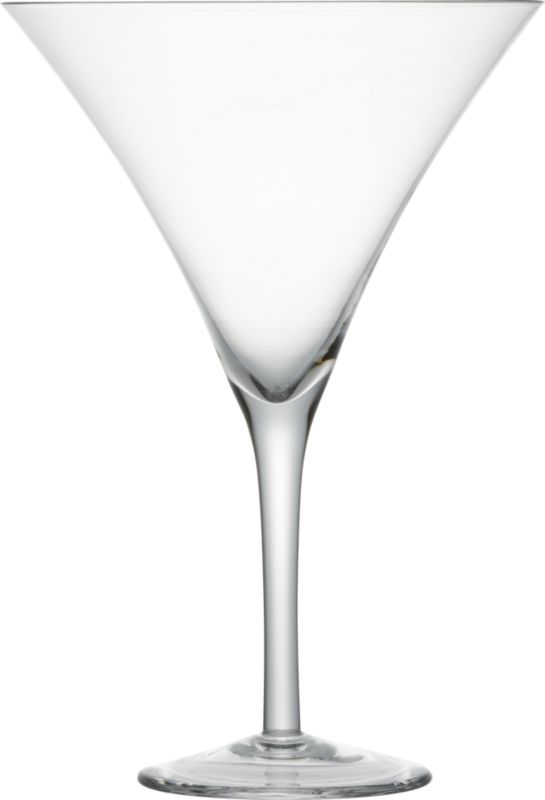 Hand blown glass with an exaggerated flare we all wish we had. The company says the glass "screams party." At
$3.50
a stem, it also purrs "
steal.
"